Halloween is tomorrow, and there is still time for spooktacular celebrations at the office. Whether you like to go all-out with your costume or are just in it for the candy, Halloween is a great day to indulge in some fun with the team. Here are four last-minute ways to celebrate in the workspace tomorrow!
1. Sweet Tooth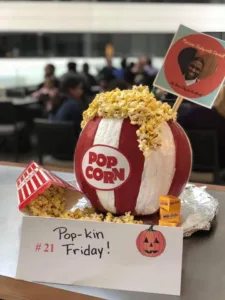 Let's be honest: most adults are here for the candy. From childhood favorites to pumpkin-shaped treats, the delights are endless! Swing by the store and host a candy taste test where everyone can vote on their favorites. You can also set up a candy bar for everyone to create their own bag of treats to enjoy throughout the day. If you have a bit more time, set up a make-your-own caramel apple station with toppings. This time of year, all the ingredients you need are readily available in stores, making sweet-themed activities the perfect last-minute celebration.
2. Show and Tell
Feel festive while learning more about people on your team and in your workspace! Create a Halloween Slack channel for people to share content. These images could be cute kid pics, pet costumes, or your proudest custom creation. You can also throw it back and have people submit childhood pictures for others to guess who the team member is in the replies! Slack channels provide a low-lift way to generate some Halloween spirit.
3. Halloween Happy Hour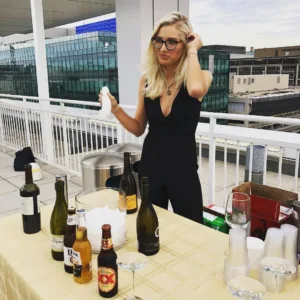 Nothing is scarier than a holiday going by without a proper party to celebrate. Throw a "horror hour" with Halloween takes on happy hour classics. Doing things last-minute will not be an issue here- gather up different mixers and toppings, and have team members craft their own unique cocktails. Everyone drinks what they want and it serves as a conversation starter.
4. Movie Break
Horror movies are polarizing, but there is plenty of fun Halloween content. Most TV series do holiday episodes and there are more subdued films that still bring the Halloween spirit. Host a viewing during lunch in a meeting room. Use a projector for a theater-like experience and provide popcorn and candy for a relaxing way to break up the day.
Halloween at work should be about having lighthearted good times and enjoying each other's company. In a shared workspace like AdvantEdge, you can have office fun and enjoy celebrating with others.