Working from anywhere is the new norm! From hybrid to fully remote situations, many people have the ability to switch up their work style. AdvantEdge Workspaces is committed to helping people discover the possibilities of working from anywhere. With these essentials, you'll be a pro in no time!
1. Coworking Space
The first step is to have a workspace you can rely on! A coworking solution offers flexibility while maintaining traditional office space amenities, like a business center and administrative support. Plus, complimentary coffee and tea in modern lounge spaces ensures you will stay alert all day. Click here to learn more about pro-working at AdvantEdge.

2. Meeting Room Rentals
Working from anywhere is great until you have an in-person opportunity and your home office no longer suffices! Enter in meeting room rentals. Whether for an actual gathering, a virtual video call, or for a larger workspace to get through a project, these rentals provide the space you need. With varying sizes, AdvantEdge meeting room rentals have flexible configurations, come equipped with the latest conferencing technology, and offer privacy. Rent by the day or the hour for all your gathering needs!

3. Business Address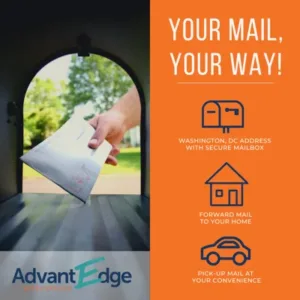 A prominent DC mailing address lends credibility to your business and creates separation between your work and personal life. Use the address for all formal correspondence and deliveries. At AdvantEdge, you'll truly be able to work from anywhere because someone will always be on hand to receive your packages and letters. All items are stored in a secure location until your return, and mail can even be opened and scanned to you- so no need to rush back! Overall, a processional address is beneficial to all businesses, but especially those who want to guarantee that everything will run as usual, no matter what.

4. Dedicated Phone Line
It is tempting to have everything come right to our cell phones. But if you want to work from anywhere, that may involve being in different time zones or out of the country without the same cell service. A dedicated phone line at AdvantEdge ensures your colleagues, clients, and partners experience zero disruptions, no matter where you are. A client services coordinator can answer calls and relay messages during regular business hours. You can then handle messages and responses at your own pace, while callers still feel attended to and heard.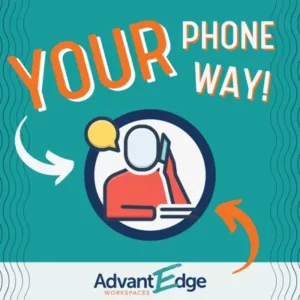 5. The Right Technology
Technology can either be your biggest asset or your biggest frustration. In order to work from anywhere, your work has to come with you! Having a reliable laptop that can host all of the functions you need is essential. Add a wireless mouse for easy navigation and a multi-purpose adapter to connect to any outside device. For most people, a laptop does not provide enough screen space. A portable monitor provides freedom from your desk without sacrificing productivity.
With these essentials, you are well on the way to redefining your workspace experience! Contact AdvantEdge today to learn more about office space and support solutions for those charting their own workspace paths.