Happy International Coworking Day! Coworking is a worldwide office space phenomenon that transformed how we think about work. It opens up endless possibilities for office space solutions and optimizations. In official terms, coworking is "being, relating to, or working in a building where multiple tenants (such as entrepreneurs, start-ups, or nonprofits) rent working space (such as desks or offices) and have the use of communal facilities," according to Merriam-Webster. But coworking has evolved to be so much more than just renting a desk. It represents community, benefits, amenities, freedom, and growth.
1. Rent a Desk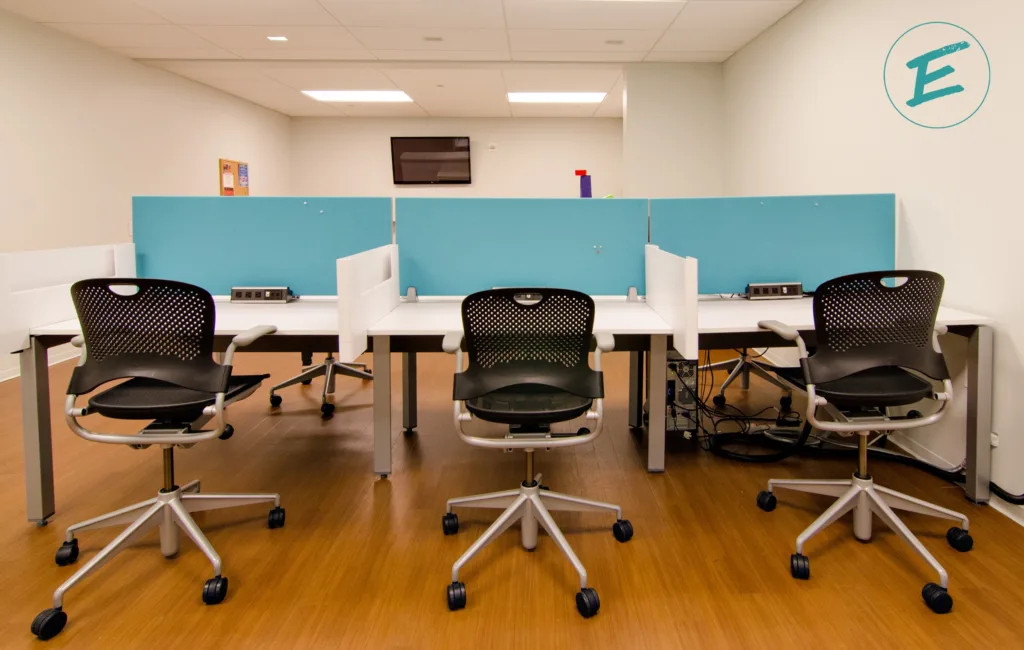 If you haven't tried coworking yet, what are you waiting for? Head over to one of the two prime AdvantEdge Workspaces locations and try it out for a day. Indulge in the amenity-rich space, easily take calls in phone booths, and connect with colleagues in meeting rooms. Complimentary coffee and tea will keep you fueled all day long. With outdoor space and assorted comfortable set-ups, you won't want to leave- or return to your old workspace solution!
2. New Connections
With coworking, there is always a new face to say hi to. Make it a priority today to connect with someone new! Strike up a conversation while getting a coffee or wheel over to a new seatmate's spot. You never know where your conversation may lead!
3. Upgrade Your Experience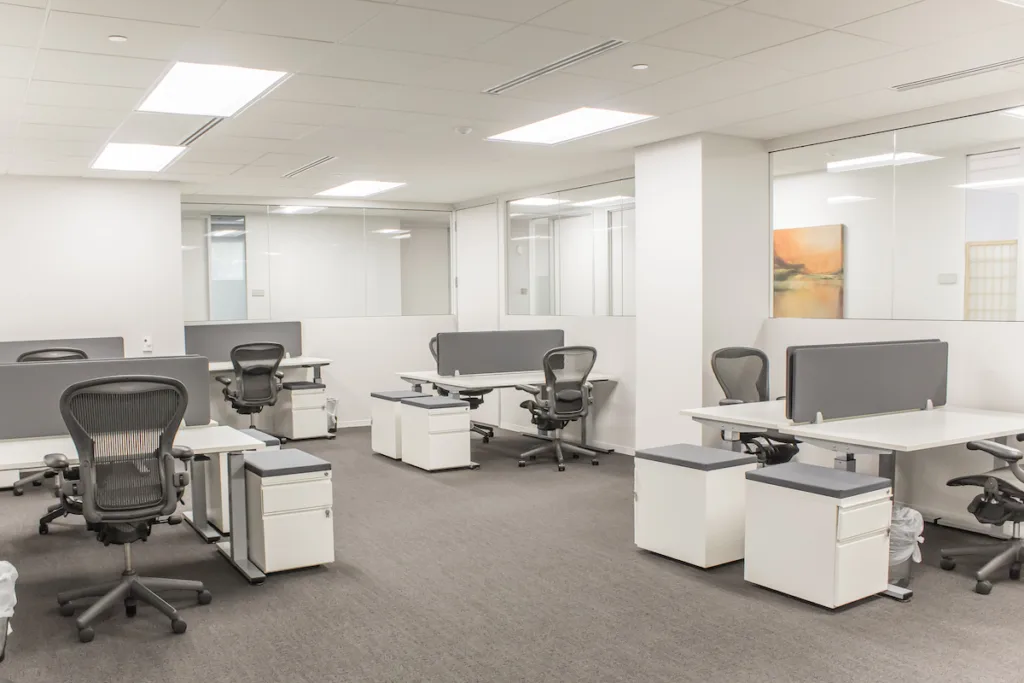 The beauty of coworking is that it offers a customizable experience. In a world of strict commercial contracts and inflexible landlords, coworking is a beacon of flexibility. Upgrade your experience any time by adding storage, consistent meeting room rentals, support services, or even moving on to a more private room. There are endless opportunities to make your work life easier.
4. Party On
A coworking community is made up of a unique group of people with varying experiences and situations. From corporate employees to non-traditional business owners, a coworking space is filled with interesting backgrounds and stories. Celebrate yourselves, and your workspace, with a party! These spaces should always have beautiful shared amenities, such as lounge space, that are perfect for an after-work drink or some late afternoon cake.
5. Try Something New
It is hard to take advantage of all the amenities your coworking space offers when work is busy. Use today as an excuse to try something new! Head up to the rooftop to take a break, invite a friend to join you for lunch, de-compress in the lounge, or even just try a new type of coffee. Be intentional about using the space you are in!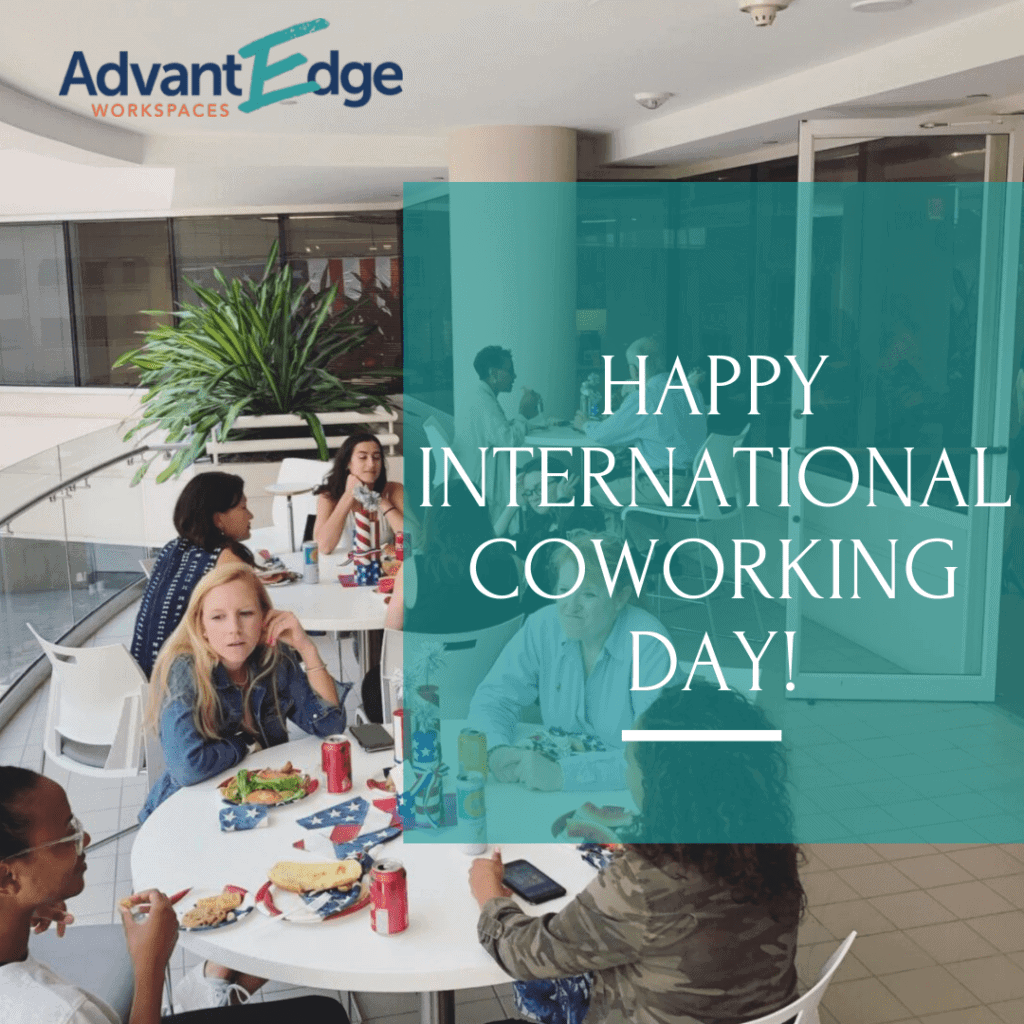 At AdvantEdge Workspaces, coworking turns into "proworking." The space is designed to feel like an executive suite, not a cramped table at a coffee shop. Whether you need a desk for a few days, a month, or as a permanent workspace solution, AdvantEdge gives you the flexibility you need. You'll get privacy while maintaining access to a professional network when you want to be social. Add an array of personalized support services, such as phone answering, mail handling, cleaning, or meeting room time, to make the experience work for you. This International Coworking Day, see what the hype is about at AdvantEdge!