Happy National Coffee Day! Did you know that 49% of American adults report drinking coffee every day? It is no wonder we have a day fully dedicated to celebrating it! Whether you pour a complimentary brew at AdvantEdge Workspaces or take your at-home espresso seriously, starting the day with a cup of joe is an essential part of American routines. Read on for how you can support local shops, snag some deals, and level up your coffee routine today:
1. Support Local
You can get your daily caffeine fix while supporting a small business at the same time. AdvantEdge has locations in Chevy Chase and downtown near Foggy Bottom on L Street. Both neighborhoods are bustling with local places to patronize. In Chevy Chase, you do not even have to leave the building for a handcrafted beverage! Junction Bakery is on the first floor and serves a myriad of espresso options, freshly brewed drip coffee, and even Vietnamese iced coffee for those who have a sweet tooth.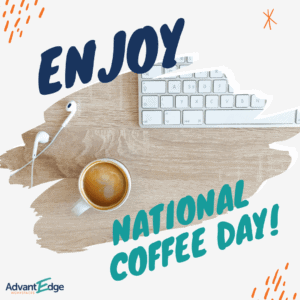 Over near L Street, you can stop by a new shop every day of the week! Bourbon Coffee and Filter Coffeehouse are two excellent options when it comes to locally-owned shops that put care into every brewed cup.
2. Snag a Deal
You can support local shops and snag a deal today in the DMV area! Grab a bag of beans from a local roastery for later and take advantage of deals from various national chains today. Dunkin is offering a free medium or iced coffee with any purchase. Or, stop by Krispy Kreme where there is no purchase necessary to imbibe in a complimentary cup of joe. Nearby chains like Pret a Manger, Potbelly, and Blue Bottle are also featuring discounts on coffee beverages. Many of these offers require being a member of their rewards programs, so it is a great time to get a deal on your daily fix while still accruing points.
3. Celebrate Your Routine
Coffee is more than just energy in the morning- it is a ritual. So much of our routine revolves around consuming coffee. Embrace the importance of sitting down with your cup. Use meaningful mugs or fun tumblers, and buy your favorite creamers, syrups, and toppings. Tie in a task with having coffee, such as spending time with your family, journaling, reading, doing a crossword puzzle, or calling a friend. There will always be days when you need to rush, but the majority of the time focus on having a positive morning routine, anchored by your morning beverage.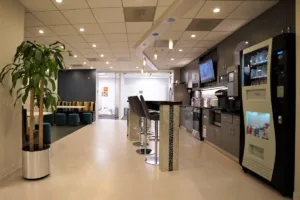 Coffee lovers will never be short on options at AdvantEdge Workspaces! Working in an environment with complimentary beverages is a must for any adult who starts the day with a little caffeine. At any time during the day, you can help yourself to a machine that can make anything from a typical brew to a cappuccino. If you are more particular, use the kitchen space to store your own creamer, beans, and maker, such as a French press. At AdvantEdge Workspaces, every day can feel like National Coffee Day!